1987
A French company, specialised in weaving high-quality nylon for luxury ski clothing, develops a new fabric, at the request of Bernard Ehret:
a light nylon that is extra-flexible and ultra-durable.
The first NICE collection is created by combining this new material with a neoprene trim, then two years later, with a full grain leather trim.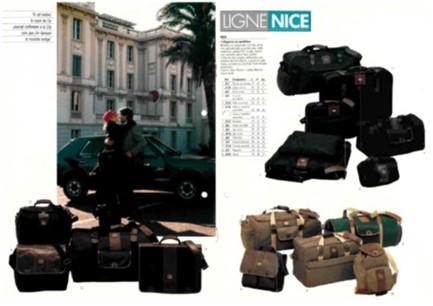 1990
Designed with a characteristic leather appearance, using an original PVC-coated fabric from Germany, the UPPSALA collection perfectly symbolises the JUMP® brand.
Sturdy yet elegant bags, that are both comfortable and practical. What's more, they make you want to travel... differently!
Quality you can see and feel. This is what makes the Uppsala collection stand out.
The creations emerge from the close association of all their different parts.
After more than 25 years, this collection is still a best seller!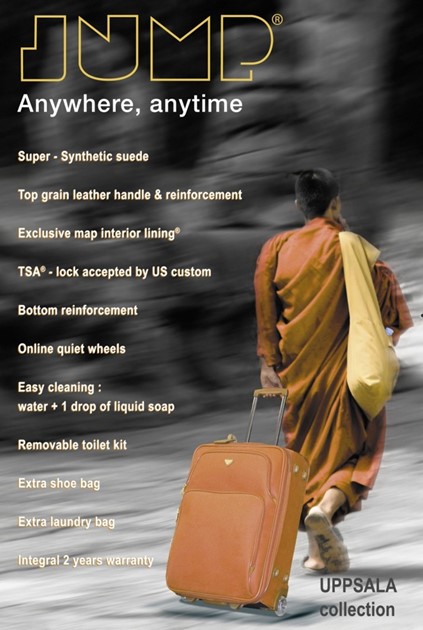 1998
Our ethos is to constantly strive for a balance between aesthetics and practicality.
JUMP creations are the product of a marriage between unexpected colours, designs and materials. Our brand becomes well-established in large stores and leather goods outlets, as we also start serving export markets.
2013
The Nice collection has developed over the years to perfectly represent the very essence of JUMP®.
It is the result of continuous research and development into the right materials to manufacture sturdy goods with lots of handy compartments.
So good to be back in Paris !
2018
Launch of the CASSIS RIVIERA collection, the feminine version of Cassis.
The true elegance of the range is achieved through a well thought-out design and the perfect balance of materials, style and practicality.
A piece of chic « Anywhere, Anytime ».
Today
Jump® has:
  Over 90% customer satisfaction and brand loyalty
When you buy online at Jump.fr you can rate your satisfaction by completing a "Verified Skeepers Review", a trusted third party for collecting consumer reviews.
More than 9 out of 10 customers are satisfied with our services.
Thanks to all our customers for placing their confidence in us and encouraging us!